CLEAR BRA INSTALLATION Service
Colorado CLEAR BRA PROFESSIONALS
PROTECT YOUR VEHICLE PAINT FINISH FROM PERMANENT DAMAGE
A Paint Protection Film or Clear Bra is an ultra-durable, completely clear urethane layer designed to protect the paint of your vehicle. Clear bra application is semi-permanent, designed to last for 10 years & beyond. At the same time, our Llumar clear bra can be removed at any point without damage to the paint of your car.
Paint protection film is very challenging to install and should only be installed by trained professionals like those at SG Window Tint. For the material to last the 10+ years it is intended to, the installers of your Colorado paint protection film need to be trained in wrapping edges and other installation methods to ensure your clear bra is installed correctly.
Colorado is famous for harsh road conditions that include rocks, debris & chemicals on the road year-round. Protect the paint finish of your beautiful vehicle by selecting a high quality Llumar Clear Bra application from SG Window Tint. Llumar's paint protection film is the very best way to protect the paint of your vehicle. It is the highest level of paint protection and available and should be considered for any Colorado vehicle.
AREAS TO CLEAR BRA YOUR VEHICLE: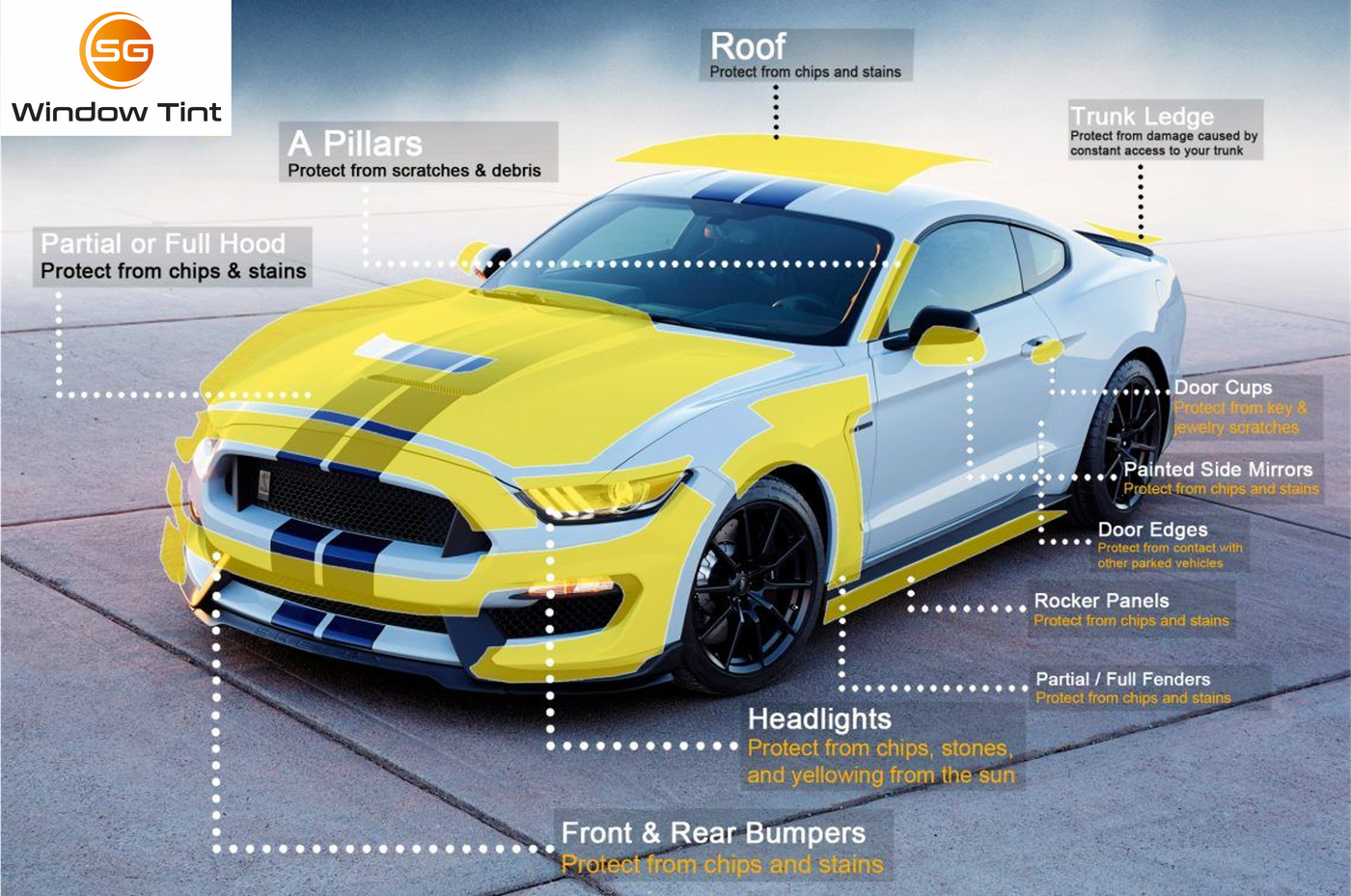 Learn About Our Clear Bra Products
Rocks, debris, bugs and chemicals put the paint of your vehicle at tremendous risk of chipping and deterioration. Often times, this damage to the front and lower areas of your paint is permanent & will negatively affect the visual appeal of your vehicle.
YOU HAVE NO CHOICE BUT TO PROTECT THE PAINT OF YOUR VEHICLE WITH A Boulder, Fort Collins or DENVER CLEAR Bra.
Check Out This Walk Around Of A Ferrari Portofino We Recently Entirely Wrapped In Llumar Platinum Clear Bra
OUR SATISFIED CLIENTS SAY IT ALL
Check out the testimonials from our happy customers below

REED KNOCKED IT OUT OF THE PARK
Reed knocked it out of the park on my BMW coupe. Really friendly and fair priced. I will be having him do my work trucks as well! Regards Tim – Renegade Roofing & Exteriors
T. Little

Great Business And People
Chase was extremely customer service oriented. I'm very impressing with the pricing and service. The appointments are super easy to make and you'll receive text reminders and the ability to reschedule with ease. Great business and people! Everyone from phone to in-person contact was exceptional.
Irene J.

THESE GUYS ARE AMAZING
These guys are amazing! Christian and Reed were extremely knowledgeable and did an excellent job on my vehicle. I was also surprised at how efficient they were, they finished my car quickly with high end quality as well. I would highly recommend these guys!
H. Meek