CLEAR BRA PACKAGES OFFERED BY SG Window TINT
Select a Clear Bra Package by SG Window Tint to get the maximum protection for your vehicle's paint at the best value!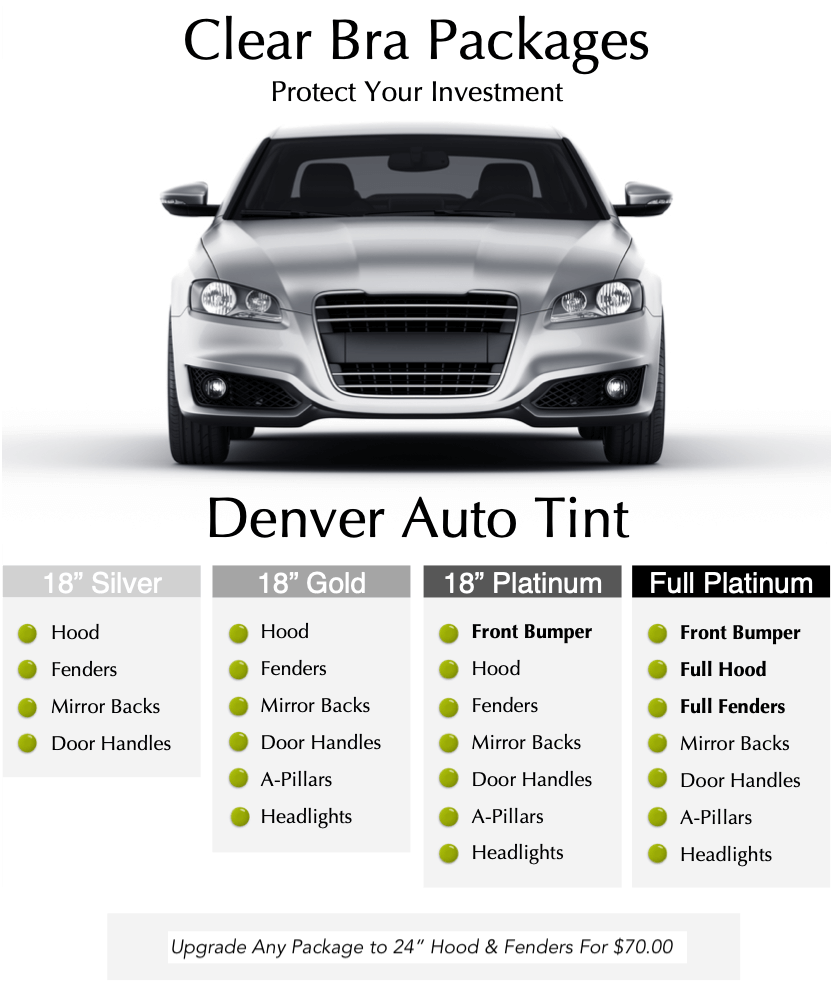 The best way to protect your vehicle from Colorado's harsh road conditions is a Clear Bra Package from SG Window Tint. Protect the most at-risk areas of your paint with one of our coverage packages. By investing in a Clear Bra Package you receive volume discounts for having the work done all at once. A package will give you a much greater value than having areas of your vehicle protected separately.
Our shop use Llumar Platinum clear bra material for all packages. Llumar Platinum is the premier paint protection film in the industry. This American Made material features a TEN-YEAR WARRANTY, an improved hydrophobic top-coat and a self-healing surface. Plus, the clarity of the Llumar Platinum is off the charts!
SG is a locally owned, premium quality automotive window tinting & clear bra shop. We pride ourselves in offering 10 Year Warrantied, American Made products. Our team of professional staff members work hard to provide complete customer satisfaction.
GET A SIMPLE CLEAR BRA PACKAGE PRICE QUOTE
CALL OR TEXT: (303) 578-4804
OUR SATISFIED CLIENTS SAY IT ALL
Check out the testimonials from our happy customers below

Super Polite People
Just got my front windows tinted to match the rear ones. Super polite people and they are good at what they do. My front windows were tinted and I was out the door in under an hour. Definitely would recommend Fort Collins Auto Tint and I will be coming back again for future tint jobs!
M. Sols

Extremely Customer Service Oriented
Chase was extremely customer service oriented. I'm very impressing with the pricing and service. The appointments are super easy to make and you'll receive text reminders and the ability to reschedule with ease. Great business and people! Everyone from phone to in-person contact was exceptional.
Irene J.

THESE GUYS ARE AMAZING
These guys are amazing! Christian and Reed were extremely knowledgeable and did an excellent job on my vehicle. I was also surprised at how efficient they were, they finished my car quickly with high end quality as well. I would highly recommend these guys!
H. Meek