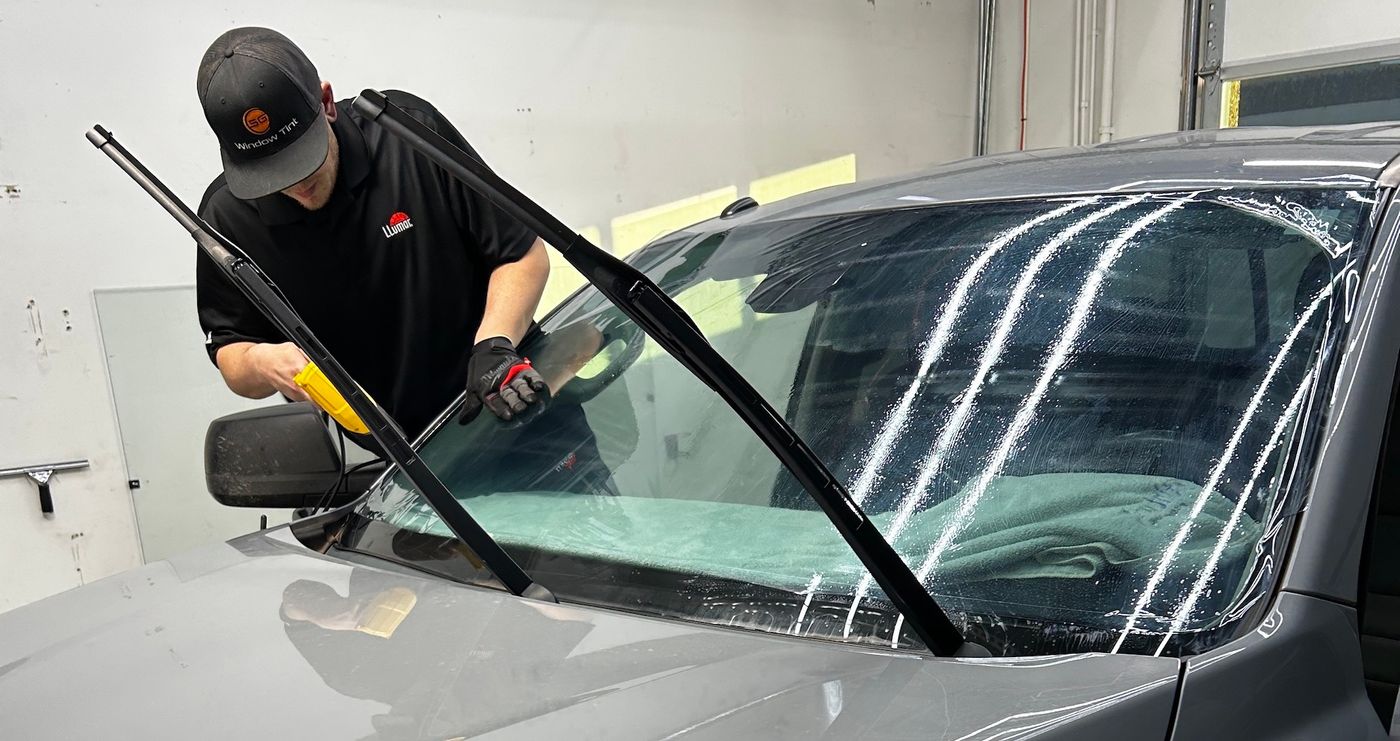 Clear Windshield Tinting To Reject Heat
Why do we tint our vehicle windows for heat rejection but not our windshield? Because we do not want to limit visibility. SG Window Tint offers a CLEAR film to go on your windshield that will reject 43% or more of the heat & all of the damaging UV from coming through your windshield. It is the best window tinting investment you can make!
The cost to tint most windshields is $249.
SG Window Tint offers the high quality Air 80 windshield tinting product from Llumar Window Films. This Lifetime Warrantied film is CLEAR and perfect to be applied to the windshield of your vehicle! Llumar's Air 80 rejects:
43% of the Solar Energy
60% of the Infrared Heat
99% of the Damaging UV
Tinting your vehicle to keep heat & damaging UV rays out without tinting the largest window in your car seems ironic. That is because it is! If you are concerned about the heat & UV coming into your vehicle, tinting your windshield is the best investment you can make.
Call Now For A Windshield Tinting Denver Price Quote: (303) 578-4804
We Are Denver's Leaders in Windshield Tinting Service
OUR SATISFIED CLIENTS SAY IT ALL
Check out the testimonials from our happy customers below

REED KNOCKED IT OUT OF THE PARK
Reed knocked it out of the park on my BMW coupe. Really friendly and fair priced. I will be having him do my work trucks as well! Regards Tim – Renegade Roofing & Exteriors
T. Little

Great Personal Attention
Great personal attention to detail, professional attitude, great job done on my SUV. Called me when done, got me in early when a spot became available.
Patrick H.

THESE GUYS ARE AMAZING
These guys are amazing! Christian and Reed were extremely knowledgeable and did an excellent job on my vehicle. I was also surprised at how efficient they were, they finished my car quickly with high end quality as well. I would highly recommend these guys!
H. Meek